About Katlyn's Dream
Katlyn Oaks founded Katlyn's Dream, a not-for-profit organization dedicated to helping families with children with long-term illness.  Having a child with a long-term illness is not only emotionally draining on a family but also extremely financially draining.  Many of our families are single-parent caregivers or one-income families because one parent must care for the child.
Katlyn's Dream provides assistance to families through its partnerships with Summerlin Hospital and The Ronald McDonald Houses of Las Vegas and Los Angeles. This assistance is not limited to clothing, iPads, gas cards, and various holiday items and gifts.
Continue the Dream...
Donate to Katlyn's Dream to help support families with children who have long-term illnesses.
Katlyn M. Oaks
July 30, 1997 - February 28, 2018
About Katlyn
Katlyn M. Oaks was born on July 30, 1997, in Las Vegas, Nevada. She was born with Mitochondrial Disease a genetic, progressive disease.
Through the course of her debilitating disease and numerous trips to Children's Hospital and long-term stays at The Ronald McDonald House in Los Angeles, Katlyn found a calling.  She saw kids and their families like her and hers struggling for basic things and witnessed how little things like iPads and nail polish made such a big difference to their quality of life.
From the stroke she suffered at 16 years old to the painful progression of her disease, the one thing Katlyn loved and kept going for was giving glasses to a young child whose eye was removed from cancer, donating strollers, iPads, clothing, food, toys, game systems, and portable heaters. As a child herself Katlyn raised and then helped several families bury their children who succumbed to their diseases.
Until she became too ill herself, Katlyn would put together, with the help of her mom and volunteers, goodie bags for the children at Summerlin Hospital, Ronald McDonald House Las Vegas, and Ronald McDonald House Los Angeles.
After she became too ill her mother, Ruth along with her dad, James, and volunteers carried out assembling and delivering the goodie bags. Katlyn succumbed to her disease after a very long and brave battle on February 28, 2018. Her dream will live on through Katlyn's Dream with a dedicated Board and her very dedicated parents and family.
Continue the Dream...
Donate to Katlyn's Dream to help support families with children who have long-term illnesses.
About Dreamer
Dreamer is a Yellow Labrador and was born on February 10, 2019. She joined our team at the young age of 15 weeks and immediately started her training to become the 1st medical facility dog specializing in pediatrics and pediatric critical care in Las Vegas.
This training was specially designed to allow her to be utilized by medical professionals as a tool to help make necessary procedures and treatments a bit less scary for their young patients. It included training to teach her how to navigate specialized equipment utilized in the Pediatric ICU in a safe manner for both her and the patient, navigating groups of people, loud noises and alarms, and demonstrating various medical procedures to help assure kids that these procedures are not as scary as they might seems.
Dreamer showed us pretty early on that she not only was "born to make a difference" but also her passion to work. It is this passion that enabled her to fast track her training and become a "Certified" in late February of 2020. Dreamer will continue training just as any professional does in order to learn new skills that will be useful to the staff and patients she assists.
Dreamer currently is able to see and assist patients at The Children's Medical Center at Summerlin Hospital and Sunrise Children's Hospital. She is also in the process of being able to provide emotional support to the families and staff at Ronald McDonald House Charities of Greater Las Vegas.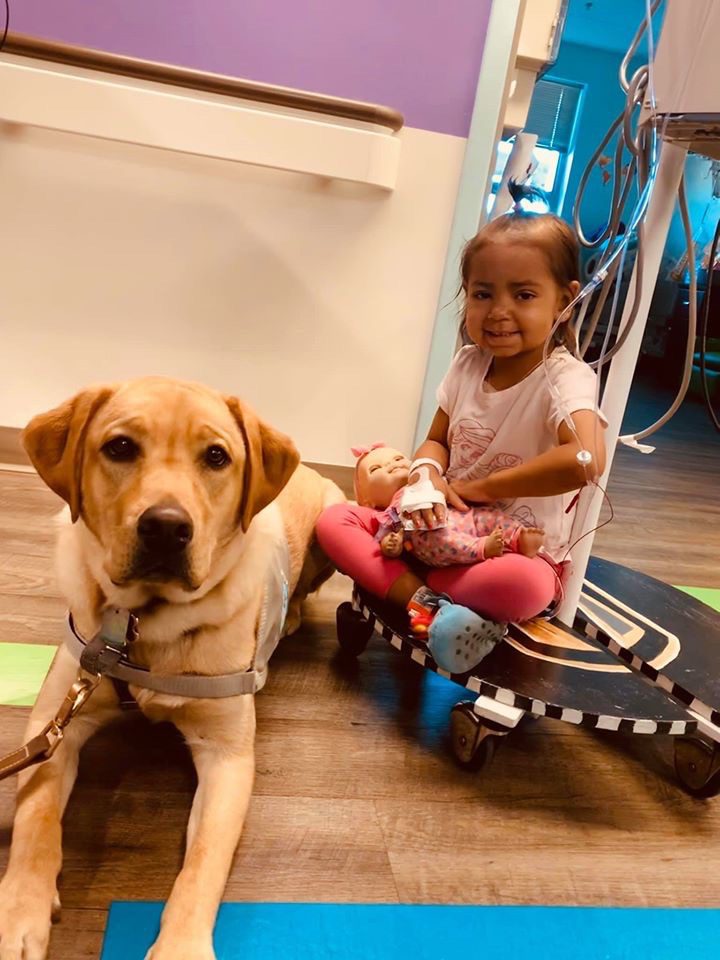 Dreamer
February 10, 2019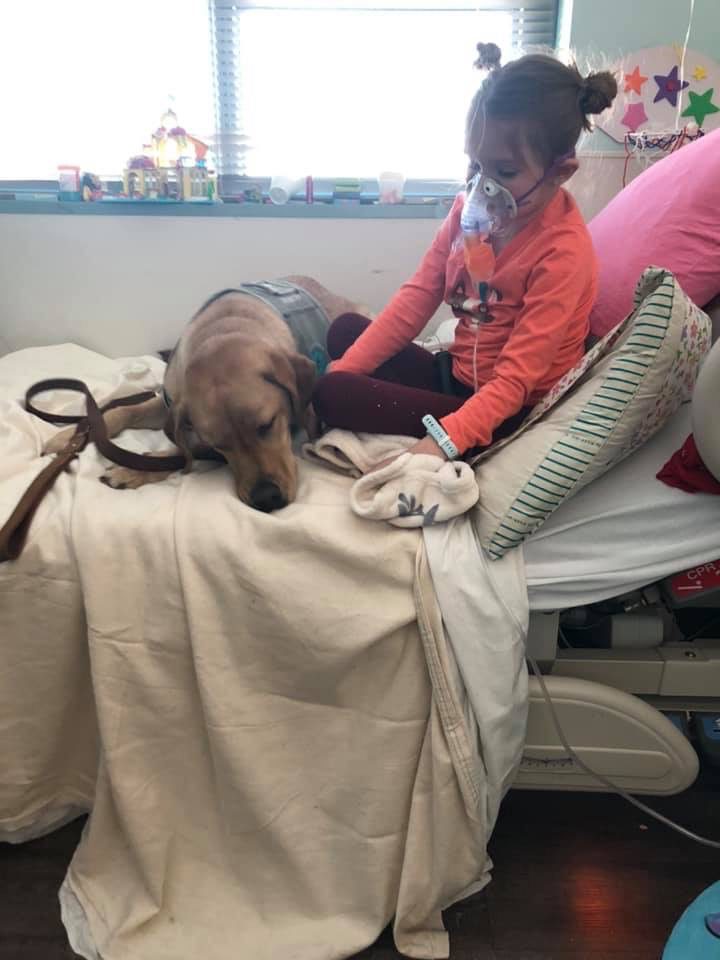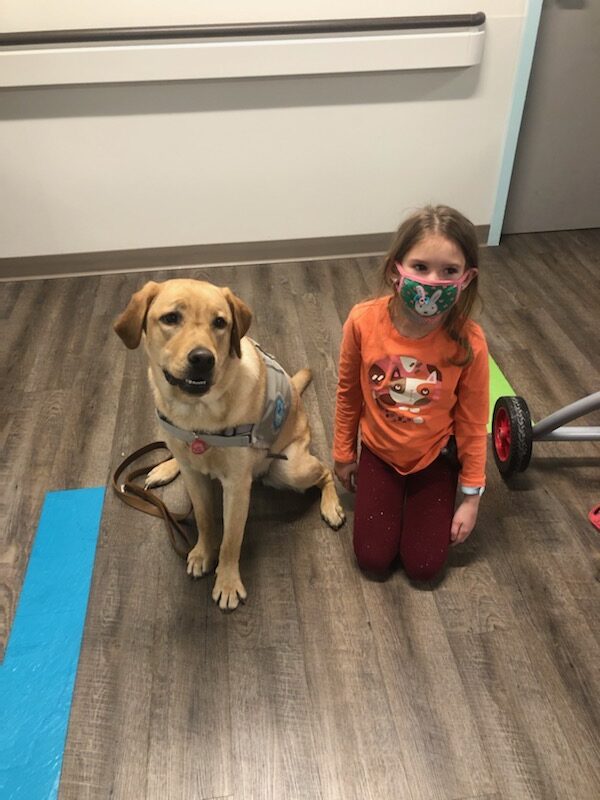 Making a Dream Come True - From Ro...
After being diagnosed with Retinoblastoma in Dec of 2013, Aeriynn was scheduled to receive treatment via chemotherapy infusion at Children's Hospital Los Angeles Jan of 2014. Due to my family residing over two hours away from the hospital, we were blessed with an extended stay at Los Angeles Ronald McDonald House. Upon residing there, we met and became very close with The Oaks Family. Aeriynn and Katlyn were connected at the hip for most of our stay. Aeriynn was completely obsessed with Katlyn. She loved everything about her which everyone who knew or met her soon became Katlyn fans as well.
While staying at LARMH, we were introduced to Katlyn's Dream. Our family was assisted in many ways and here are a few. My children and I had never been to Disneyland and were soon going to visit if the oncology team said it was okay. Once we were cleared to go on our adventure, Katlyn's Dream surprised my family with a gift card to help enhance the experience. On another occasion.. travel was very hard for me and at the time I had a double stroller with a child (my son Jordan) who had become completely dependent on the stroller. and refusing to walk. Which made things harder for me with all the weight I was pushing up and down a hill to and from the hospital. One day I arrived at LARMH and went into my room to notice that Katlyn's Dream had managed to get a stroller for Aeriynn and it was waiting for our arrival. I never asked nor did I expect to receive a stroller but it was greatly appreciated.
To See how what We needed was supplied without me asking spoke volumes as to what this organization is all about. Katlyn's Dream truly cares about the families that they help and support. Although I have a long list of experiences and blessings from Katlyn's Dream, I will share one more. As a single mother of two, it's very hard to provide for your children financially when you have a child going through treatment and aftercare. Katlyn's Dream knew and understood my struggles and never made me feel ashamed of my misfortunes. Katlyn's Dream provided new clothing for both of my children. It was truly amazing! Honestly, I had stressed about what I could and couldn't provide on my own and worried a lot because kids grow so fast. Words do no justice when trying to describe how thankful and appreciative we are for Katlyn's Dream and all that they've done for my family and for others.
Continue the Dream...
Donate to Katlyn's Dream to help support families with children who have long-term illnesses.